How to Implement the Hybrid Work Model
How to Implement the Hybrid Work Model
The COVID-19 pandemic has prompted many companies to allow their employees to work from home more often. In fact, some companies find that remote working and employees with a home office have been a great success. Now that things are slowly returning to normal, many professional organizations are entering a new phase of the pandemic known as the hybrid workforce. One study showed that approximately 55% of employees prefer to work remotely at least three days a week and that 74% of U.S. companies are using or planning to permanently implement a hybrid work model. This guide offers some tips and information regarding the hybrid work model, so you can determine whether it's the right choice for you.
What is a Hybrid Work from Home Model?
It's important to understand just what the term hybrid work means before deciding if it's the right choice for you and your business.
Definition: A hybrid work from home model means that employees work from a home office part of the week and physically come into the office for the rest of the week. In general, this work model allows employees to work from home at least one day a week or more.
Pros and Cons for employees and companies: Adopting this type of work model has many pros and cons. First, it can be quite beneficial to employees who want to spend more time with their families for a better work-life balance. The pro for companies is that it allows them to reduce overhead costs and many businesses notice an increase in productivity. One of the cons of this work model is that some workers feel isolated and may prefer to be in a real office setting. Companies may discover that some employees quit due to now having to come into the office or that their productivity levels drop on days when they're working from home.
Hybrid working and asynchronous working
There are different forms of hybrid work, so let's take a closer look at these options below.
What is Asynchronous working?
This term refers to tasks that employees can accomplish individually without needing to be as available simultaneously as the rest of the team. For example, editing a document or answering an email are examples of asynchronous work.
Difference between asynchronous and synchronous
Synchronous work requires staff to be available at the same time or in the same place. This would include things like face-to-face meetings and collaborative work that must occur either in the office or virtually. The difference between these two types of work is that synchronous work requires employees to be available simultaneously to accomplish a specific task, while asynchronous work does not.
The benefits of hybrid work
Provides flexibility: Hybrid work allows employees to enjoy a more flexible schedule to take care of things like their home and family.
Improves motivation and concentration: People who work from home tend to be more motivated to achieve since they want to show that they're capable of remote work. Many people also notice an improvement in concentration since they can focus better in a familiar, quiet environment without distractions.
Changes conversations on email to chat: Many companies use chat programs to discuss issues or meet with workers rather than sending emails. This allows for better dialogue and an improvement in communications overall.
Replaces meetings with efficient alternatives: Virtual meetings can be an efficient method that helps remote workers collaborate without leaving their homes. Meetings are essential, so having the ability to hold them remotely or to have a one-on-one conversation gives employers better control.
Hybrid Work: Best Practices for Employees
If you're an employee with a hybrid office, keep these tips for best practices in mind.
Try to match your home office with the setup you have at work to create the perfect home office. 
Setting up the perfect home office will help you stay focused and maintain a perfect work-life balance.
Equipment: Try to get the same keyboard, mouse, and monitor you have at work if possible, so you're already familiar with it.
Ergonomics: Make sure that you have a comfortable ergonomic desk chair, a quality keyboard, and a roomy desk that provides you with support to prevent pain and injury.
Technology: You don't have to use the exact same PC or other technology as your office but try to match it as closely as possible. For example, you can add your own touch by choosing a different screensaver or mousepad.
Organization: Declutter your new home office and get it organized with file cabinets, drawers, and bookshelves. This will make it easy to find what you need while working from home.
Lighting: Install lighting that won't cause you to strain your eyes. You also want to choose lighting that makes you look good and clear in virtual meetings and teleconferences.
Office Décor: Remember to add some nice office décor to make your hybrid workspace feel personal and comfortable. Hang pictures on the wall and bring in some houseplants to add a little greenery.
Invest in mobile accessories
Bags: Buy a quality suitcase or laptop bag for easy transportation, so you can take what you need with you whenever you need to go to the office.
Gadgets: Invest in a durable smartphone case, wireless headphones, and other gadgets to help you stay on top of everything whenever you're on the go.
Chargers: Keep your electronics devices constantly charged by having one at your home office and keeping one at the actual office, so you never run out of power.
Time management
Create a schedule: Develop a reasonable work schedule and use calendar software to help you keep track of important tasks and meetings at home and on in-office days. A planner is another great tool to keep your schedule on track.
Stay connected with coworkers
Use your team chat tool: From Zoom to Slack, be sure to use team chat tools regularly to keep up with your boss, coworkers, and team.
Socialize when in-office: On days where you do go into the office, make it a point to be social and chat with your coworkers, so you maintain a sense of teamwork and camaraderie.
Go paperless
Use the cloud: Avoid carrying large amounts of documents from your office to your home and back. This can be dangerous if you lose confidential or essential information. Stick to scanning documents or adding them to the cloud so you can access them from anywhere. This also protects the environment and leads to a more sustainable life.
Hybrid Work: Best Practices for Companies, Team Leads, or Managers
Here are some best hybrid work practices for businesses, team leads, and managers.
Provide your employees with whatever they need
Set workers up for success: Ensure that your employees have everything they need for flexible work, including a computer, all software, and other essential equipment and tools.
Office supplies: Give your employees office supplies like printer paper and file folders for use at home to help them stay organized and on-task.
Chargers: Ensure that all workers have the right chargers to power up company-issued smartphones, laptops, and more.
Build a virtual community
Use tools to stay in touch: Make sure you're utilizing project management and remote communication tools to regularly keep in touch with all of your employees.
Virtual happy hours: Hold weekly or monthly "virtual happy hours" to encourage both in-office and work-from-home employees to check-in and talk to each other.
Weekly one-on-one meetings: Check in with each employee at least once a week, holding a one-on-one meeting with managers or team leaders.
Protective health-related protocols
Hand Sanitizer and protective equipment: Provide workers with essential health-related items like hand sanitizers, masks, and other protective equipment when they're working in-office.
Write a health policy: Draft a universal health and protective policy that everyone must follow, both in the office and at home.
Invest in Technology to join the physical and virtual
Use remote software: Investing in software and other technologies will allow workers to connect and communicate in physical and virtual work realms.
Combat Digital exhaustion
Create a balance: Make sure workers have a good balance between synchronous and asynchronous work and develop a work schedule they can live with to prevent exhaustion or digital fatigue.
Set Boundaries to have control and to keep your workforce focused
Hold regular meetings but set a time limit: It's good to hold regular meetings but keep them as short as possible. Set a time limit, so your employees can get back to the task at hand.
Have an agreement: Establish a set agreement for workers so that they know when and how they should be working from home and when they should be doing so in-office.
Give and receive feedback: Keep communication lines open by giving regular feedback, and be open to receiving it too.
Identify the best way of work for each employee and be flexible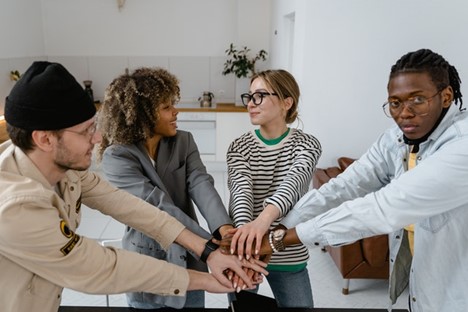 Get to know your employees: The hybrid work model is all about customization. Some people prefer to work together as a team, while others prefer to work alone from home. Be flexible and allow your employees to choose their preferred work model to achieve better results and improve performance. Always be open to negotiation and make changes as needed.
Create a Hybrid Work Policy
Set ground rules: Develop a comprehensive hybrid work policy, so your employees know the rules for working remotely and in-office. The policy should be clear about how employees should handle different situations, so there's no confusion.
The hybrid work model is the new trend for many companies, and it looks like it's here to stay. Whether they're working from home or in the office, knowing how to manage employees is key to their success and yours. While it's a challenge for employees and companies to take on, implementing the hybrid work model the right way will ensure that you have a stronger, more productive workforce.
BY Mario Pineda  –   Originally posted on Porch.com
https://www.teamdavis.co.nz/wp-content/uploads/2022/02/Banner-scaled.jpg
589
2560
TeamDavis
https://www.teamdavis.co.nz/wp-content/uploads/2019/04/team-davis-logo-harcourts-1.png
TeamDavis
2022-02-15 09:10:22
2022-02-15 09:13:17
How to Implement the Hybrid Work Model