LATEST REINZ UPDATE FOR NORTHLAND PROPERTY MARKET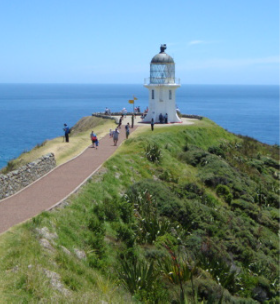 Known for its beautiful beaches and lifestyle offerings, Northland is becoming an increasingly popular destination to settle. Since COVID-19 opened the door to increased workplace flexibility, the region has seen an influx of new families moving to the area, taking advantage of the region's growth including new housing developments and increased employment opportunities.
Owner occupiers and those looking to retire dominate the buyer pool. Northland has overtaken popular retirement regions Tauranga and Mount Maunganui — which are now too expensive for some — thanks to its relative affordability and the lifestyle on offer.
In July, Northland's median price increased 3.6% year-on-year to $725,000. Northland was also the top performing region in terms of year-on-year movement on the REINZ House Price Index (HPI).
First home buyers and investors due to make a comeback
Like in many regions across New Zealand, first home buyers backed away from the market due to tightened lending criteria, rising interest rates, cost of living, and general uncertainty. As tweaks to the CCCFA in July loosened the rules around lending, Northland began to see buyer confidence return to the market.
With stock levels on the rise — up 117.0% on this time last year — first home buyers are starting to see the light at the end of the tunnel — backed by more choice in their price range. However, pre-approvals remain a challenge for this buyer group. For example, some properties in this price bracket can have consent issues if anything is identified in the building report, making it difficult to secure finance. This is not because of their ability to borrow, but rather the property not being up to the bank's lending standard.
Investors have also shied away from the market, resulting in a rental shortage. Many first home buyers are choosing to rent for longer to save a larger deposit, meaning demand for rentals is high, and the need for more investors is crucial.
Northland salespeople say investors will soon realise the opportunities in the market and are hopeful there will be an increase in those looking to purchase.
Room for growth
Whangarei District Council announced its new growth strategy late last year. The district has seen its population surge over the past ten years, resulting in a range of quality house and land packages available in subdivisions near the east coast and surroundings of Whangarei.
A rich, natural environment and flourishing economy have contributed to the pace of growth. Current subdivisions in Whangarei include Parklands Estate, Riversong, The James and The Landing in One Tree Point.
Bream Bay, Ruakaka, Waipu and Kerikeri also have housing developments underway. Mangawhai is seeing significant growth and development. A newly crafted Mangawhai Point will see 40 residential sites across eight hectares, situated at the tip of the peninsula. The subdivision has attracted buyers far and wide due to idealistic lifestyle offerings, including its water's edge location. 10 | REINZ Monthly Property Report
Aucklanders have shown particular interest in these housing developments, with many no longer tied down to a central city job, but instead able to work from home.
Quieter towns like Dargaville have also seen growth, offering a slower pace of living close to the beach and more affordability than other areas in Northland. Agents expect more enquiry to occur as we head into spring.
A sparked interest in commercial and industrial sector
Over the past year, confidence in the commercial and industrial sector has peaked in Whangarei and areas further up north. It is seen as an area for growth and development. Northland agents say there are upsides and downsides to this.
Marsden Point oil refinery is set to close after a strategic review, which has left people concerned about job losses and the impact on the regional economy.
There has also been a push for the deep-water port (Northport) at Marsden Point to take containers full time to relieve Auckland. In March 2022, Northport announced its process to become recognised as a container ship port. Northland agents say that if this goes ahead, surrounding areas such as Bream Bay, One Tree Point, Ruakaka, and Waipu will thrive.
As well as Northport's expansion, other projects in the pipeline to stimulate a boost in Northland's economy include the $240 million dry dock, the relocation of the New Zealand Navy base from Devonport to Whangarei, and significantly improved rail infrastructure. This will support other large-scale projects such as increased freight volumes.
---
No end in sight for falling house prices
Miriam Bell18:00, Jul 05 2022
House prices have taken their biggest quarterly tumble nationwide since early 2009, and it is unclear how long the downturn will continue, a property researcher says.
CoreLogic's latest house price index showed prices nationally fell by 0.8% in June, following declines of 0.8% in May and April. It left the national average at $1.01 million, up 12.8% from $906,532 at the same time last year.
But the quarterly fall of 2.3% was the biggest drop over a three-month period since February 2009, which was just before the market bottomed out after the global financial crisis (GFC).
The decline was widespread, with all the main centres, apart from Christchurch, recording quarterly price falls.
Auckland and Wellington had the biggest drops, at 4.9% and 4.7%, which took their average prices to $1.44m and $1.07m respectively.
In Hamilton, Tauranga and Dunedin, prices were down 1.2%, 1.8% and 2.4% to averages of $880,947, $1.16m, and $682,108. In Christchurch, prices were up 3.3% to $783,216.
Of the regional centres, only three – Whangārei, New Plymouth, and Queenstown – had quarterly price increases, while prices decreased most in Lower Hutt and Upper Hutt where they were down 6.2% and 6.9%.
CoreLogic head of research Nick Goodall said the GFC trough came after a succession of negative quarters, but the current downturn was just setting in, and it was uncertain how long and how far it would go.
Affordability constraints coupled with higher interest rates and tighter lending conditions were likely to keep a lid on housing demand over the coming months, he said.
"Under these circumstances, it is difficult to foresee any respite for falling house prices in the near term.
"A bounce back in demand would help, but that probably won't happen until interest rates stabilise, or start to fall again."
The easing of the Credit Contracts and Consumer Finance Act lending rules was likely to have a minimal impact on the market, in part because confidence was so low, he said.
---
Five parts of the economy affected by a weaker housing market
Miriam Bell05:00, Jun 26 2022
MONIQUE FORD / STUFF
CoreLogic head of research Nick Goodall outlines the looming factors that could sink house prices, and how important the next election will be.
Uncertainty stemming from New Zealand's weaker housing market is having a negative impact on other parts of the economy, and it could go on for some time, experts say.
House prices continue to fall, with CoreLogic's latest figures showing the national average price dropped 0.9% in the three months ending May. That's the biggest quarterly decline since the end of 2010, when the country was recovering from the global financial crisis (GFC).
In some areas, the falls have been bigger. Prices in Auckland and Wellington are down from their respective market peaks by 10.2% and 10.4%, according to the Real Estate Institute.
And most commentators say there is more easing to come. ASB and Westpac have predicted prices could drop 20% from their peaks, when adjusted for inflation.
On an annual basis, the latest figures from the institute show sales were down 35.2% in April, while Realestate.co.nz has the number of homes for sale in May up by 76.7%. This means the market now favours buyers, but rising mortgage rates and a tighter lending environment are holding many back.
While the market is not expected to collapse, it is weaker, and that has a ripple effect on other parts of the economy. So where is it impacting and how?
1) Have falling prices rattled consumer confidence?
ANZ chief economist Sharon Zollner says the housing market is a central component of the country's economy, and any uncertainty around it has a clear impact on consumer confidence.
There is evidence of this in the bank's latest Roy Morgan consumer confidence report, she says. It has consumer confidence down two points to 82.3 in May.
LAWRENCE SMITH/STUFF
ANZ chief economist Sharon Zollner says household confidence is dire.
"This was above its record low of 77.9 in March, but shows household confidence is still dire. At the same time, the proportion of people who have plans to buy a household item, which is a good indicator of confidence, are at lower levels than they were through the GFC recession."
While the balance sheet of the "average" household will be much tighter, the low unemployment rate means most consumers, particularly homeowners who did not buy recently, should get through the tougher economic times, Zollner says.
"But there is a risk in downplaying the 'freak out' factor. The questions are whether people will spend less because their house has dropped in value from last years' peak, and how they will respond to higher mortgage rates and cash flow pressures."
The weaker market affects consumer confidence because financial uncertainty means people are not prepared to make big decisions, Squirrel chief executive John Bolton says.
---
House price falls: 'The rollercoaster still has a way to go'
Miriam Bell11:29, May 23 2022
CoreLogic head of research Nick Goodall outlines the looming factors that could sink house prices, and how important the next election will be.
The level of housing market volatility is the highest in 30 years and that is causing the market downturn to snowball as the weakness works its way up to higher-end properties, a valuer says.
Quotable Value (QV) has just released its latest figures, showing that prices in the 25% most and least expensive homes across the main centres were down by 1.2% and 1.7% respectively over the three months to April.
"In my 30-plus years as a registered valuer, I have never seen anything quite like it before, and I am not sure if we have seen the worst of it, either. This residential property rollercoaster still has a way to go," general manager David Nagel said.
The average price across the main centres fell by 1% which left it at $1.03 million.
It was the first time since the end of the 2020 national lockdown that the upper end of the market had recorded no price increase at all and longer since it had posted a decline, but the lower end had posted its first fall in over two years last month, according to QV.
While seven of the 10 biggest declines in prices in different centres were at the lower end of the market, three were at the upper end of their particular markets.
Prices on upper end properties in Lower Hutt, Upper Hutt and Palmerston North were down by 8.2%, 6.3% and 4.6% to average prices of $1.39m, $1.23m and $1.07m respectively. In Auckland City, upper end prices dropped 3.4%.
House prices in the upper end of the Upper Hutt market dropped by 6.3% over the three months to April.
But, aside from Lower Hutt, the biggest price falls were for lower-end properties in Papakura, Dunedin and Porirua where they were down by 10.8%, 8.1%, and 7.4% to $780,203, $440,708 and $689,740.
In the Auckland region, Manukau's lower-end prices dropped the most. They were down 6.5% to an average of $780,192.
Nagel said that what began as a reduction at the more affordable end of the market was now beginning to affect prices much further up the property ladder.
"What we are seeing now is a growing number of main centres experiencing declining prices at both ends of the market. Those losses are starting to mount, month to month, up and down the property ladder."
The first four months of this year could not be much more different to the last four months of last year, he said.
That was because last year none of the main centres had any negative price movement at all, but now most of them did and the few exceptions, such as Whangārei, Christchurch and Invercargill, were likely to join them in the coming months.
---
The housing market may be down but its not out
By Miriam Bell  Published: 05:00, May 22 2022
Warnings that house prices could fall by 20% from their peaks are disturbing, but experts say the state of the market is not as dire as it sounds.
The market has been easing for some time, and the latest Real Estate Institute figures show the number of houses sold in April was down almost 30% compared to March while the national median price dropped 1.7% to $875,000 over the same period.
Price falls since the peak of the market are larger, according to the institute's house price index. It has the national median down 6.2% since November, and Auckland and Wellington's prices down from their peaks by 10.2% and 10.4% respectively.
But ASB and Westpac have now predicted prices could drop 20% from their peaks, when adjusted for inflation. That would be the biggest fall since the 1970s when they decreased by about 40% between 1975 and 1980.
That sounds scary, but as many experts have pointed out it would still only return prices to where they were early last year. So what do falling prices, along with more muted sales activity, mean for the market, and for buyers?
CoreLogic chief property economist Kelvin Davidson says the inflation-adjusted price falls being suggested are plausible, and steeper than in the global financial crisis (GFC) when they dropped around 15%.
Prices rose faster and over a shorter period over the last two years than they did over the pre-GFC period, and that highlighted their rapid decline this year, he says.
"That is reflected in a real change of mood and pace in the market, with listings up and buyers taking their time because they have more choice which gives them more pricing power.
CHRIS MCKEEN/STUFF
Auckland's house prices have fallen 10.2% since their peak in November.
"But it doesn't seem there is a huge wave of sellers desperate to sell. Unemployment remains incredibly low and, although interest rates have gone up considerably, people's serviceability has been tested."
People who bought late last year with a minimal deposit and stretched themselves in terms of loan relative to income were more vulnerable, he says.
But most homeowners would not be in a situation where they were facing negative equity, although they face higher loan repayments when they refinance. And in the first quarter of this year there were just six mortgagee sales, compared to a peak of 777 in 2009.
While there may be a lag before distressed sales increased, there are more buffers in place than there were in the GFC period, Davidson says. These include loan-to-value ratios, tougher serviceability criteria, a strong labour market, and greater bank willingness to avoid mortgagee sales.
---
A larger correction remains a possibility says Reserve Bank of falling house prices
John Anthony Published: 13:35, May 04 2022
 PETER MEECHAM/STUFF
House prices have been declining since November, but still remain elevated above their sustainable level, the Reserve Bank says.
Property investor Matthew Ryan provides his predictions for the housing market as prices fall and auction clearance rates drop.
Recent borrowers are most exposed to rising interest rates and declining house prices, as a larger correction in the property market remains a possibility, the Reserve Bank says in its latest financial stability report.
The half yearly report, which covers matters relating to the soundness and efficiency of the financial system, said New Zealand's financial system was well-placed to support the economy and remained "robust" in the context of significant global economic challenges, but recent developments meant the near-term risks to the financial system had increased.
Key challenges facing the economy include rising interest rates and inflation, house prices above sustainable levels despite recent declines, the ongoing effects of the pandemic and Russia's invasion of Ukraine, it said.
The report said while a gradual adjustment to a more sustainable level of house prices was desirable for the stability of the financial system, "a larger correction remains a possibility".
"While a gradual decline in house prices to more sustainable levels is desirable from a financial stability perspective, a sharp correction remains a plausible outcome that would have broad economic implications."
Recent buyers with limited equity were particularly vulnerable to house price declines, and a large fall in house prices would significantly reduce housing wealth and could lead to a contraction in consumer spending, it said.
"Some recent mortgage borrowers could face difficulty servicing their debts as interest rates rise alongside higher living costs."
Banks' capital positions have increased over the past two years ahead of upcoming higher capital requirements, strengthening the banking sector's ability to absorb losses and maintain lending in the event of a downturn, it said.
---
Weak sales and prices prove housing market slowdown is here
By Miriam Bell Published: 09:11, Apr 27 2022
Banks, like any business, want to charge as much as they can. This is what that means for your interest rates.
New Zealand has a buyers' market sooner than expected, with house sales volumes at the weakest they have been in a decade, CoreLogic says.
The property research company's latest quarterly market update confirmed sales began to show hints of a slowdown in the middle of last year, but the trend extended into the first quarter of this year.
CoreLogic chief property economist Kelvin Davidson said it would be necessary to go back about a decade to find softer sales results for any given January, February or March.
While Omicron might have stalled housing turnover temporarily, the key drivers for the sales slowdown were fundamental and longer-lasting, he said.
Sales in the first part of this year were the weakest they have been in a decade.
"Higher mortgage rates and reduced credit availability is having a significant impact on sales, and we expect market activity will continue to be subdued.
"Sales volumes could decline by as much as 10% this year, and another 5% or so in 2023. But this is best characterised as a slowdown though, rather than a serious downturn."
The fall in sales had also contributed to the increase in the number of listings available on the market, and that had reduced buyer anxiety that they might not find their ideal property, he said.
"The big picture is we've probably shifted into a 'buyer's market' already in many parts of the country, sooner than what might have been anticipated.
"With buyers now feeling they have the upper hand when it comes to offers, it's no surprise to see that price pressures have faded away too."
CoreLogic's House Price Index showed a slowdown, while the median price figures from its automated valuations model showed around one in every six suburbs nationwide experienced a fall of at least 1% in the three months to February.
---
Auckland City median house price falls 19 per cent since peak in November
Geraden Cann, Mar 21 2022
The median house price in Auckland City has fallen by nearly a fifth since peaking in November, according to data from the Real Estate Institute.
The institute's (Reinz) data shows the median price of residential properties in the city fell from about $1.54 million in November to $1.25m in February.
The fall was also noted by property data firm CoreLogic, which also recorded a 19 per cent median sale price drop between the December quarter and the year to date.​
CoreLogic head of research Nick Goodall said the drop was in part due to a rise in the proportion of flats and apartments selling, and a fall in the number of freestanding homes sold, which was probably driven by house owners' price expectations being too high.​
Goodall said flats (which included townhouses and terraced housing) and apartments (units within larger complexes) had traditionally been cheaper, resulting in owners' expectations being more in-line with the falling market.
The owners of traditional houses that managed to sell were probably the ones accepting lower prices, Goodall said.
He said these probably included motivated sellers who had already bought another property and investors who would accept prices below what they would have been three months ago, given the capital gain was still large.
Goodall said first home buyers should be encouraged by falling median sale prices.​
"It does show an adjustment in the market where lower prices are being achieved," he said.
Goodall said traditionally Auckland led price trends that later played out around the country. But that did not mean it would this time.
"It may be showing vulnerability sooner than some areas this time due to the higher average value and the fact that the current slowdown is driven by tightening credit conditions which affect the amount people can borrow," he said.
This is interesting as Northland normally follows Auckland within a few months.
---
New Zealand property market: Asking prices plummet in some parts as more houses available
March 2022
More houses available to buy and a monthly drop in the national average asking price are hints the property market is cooling, latest real estate data shows.
Releasing its February report on Wednesday, property listings website realestate.co.nz confirms nationwide property listings, at 11,545 are up 7.5 percent year-on-year, marking a return to February 2018 levels.
National housing stock (a snapshot of properties available to buy at the end of the month), is up almost 50 percent year-on-year, at 23,270.
At $993,741, the national average asking price for properties dropped 0.5 percent in February – the first monthly fall in five months. 
Realestate.co.nz spokesperson Vanessa Williams said new listings and stock numbers are starting to reflect 2018 and 2019 levels, before the COVID-19 pandemic.
"There were just 15,829 total homes available for sale around the country in February last year – that means Kiwis had 7,441 fewer homes to choose from a year ago, which is significant when you consider our population is now over 5 million," Williams said.
"The increasing numbers suggest that we might be moving back towards pre-COVID-19 levels, and this will be welcome news for property-seekers."
In what realestate.co.nz says is a hint the property market might be cooling, in February compared to January, average asking prices dropped in 11 out of 19 regions.
"While it is too early to call this a trend, if vendors are asking less for their properties in February than they did in January, it could suggest a market slowdown is on the way," Williams said.
Average asking prices drop in 11 regions
The average asking price in Auckland dipped 1.3 percent month-on-month, to $1.26m.
Average asking prices also fell in Waikato, the central North Island, Hawke's Bay, Gisborne, Nelson & Bays, Coromandel, Wairarapa, Wellington, Otago and Southland.
At 6.2 percent, the biggest monthly fall was in the central North Island, where the average asking price was $813,480.